Since this is a very basic system, it probably doesn't only apply to guitar, but any unbalanced audio signal so here we go:
I recently designed a junction box for connecting a guitar with a pedalboard and amplifer without having a huge mess of cables on the ground.
It has 4 inputs and 4 outputs. In a standard configuration, you have two rows of 4 plugs that are connected to their opposites directly. You have guitar pedals that go in front of the amp, and you have pedals that go in between the preamp and power amp (which have a send and return on the amp).
I tried to make this design so I can switch between that normal configuration and a configuration that puts all pedals in series and puts them before the pre amp and bypasses the routing for an fx send and return on the amp (directly connecting the pre and power amp as if there were no pedals).
This is the design:
https://postlmg.cc/30jxz1QM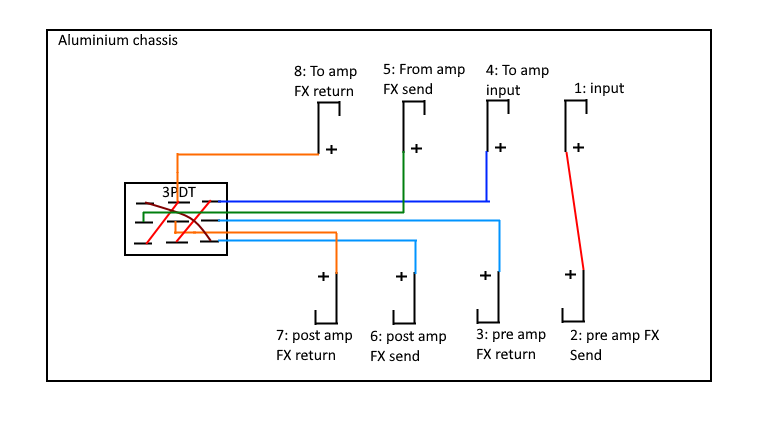 It works, but it is very noisy. Sounds like a ground issue, which it probably is. But I'm not experienced enough with audio electronics to find the problem and thus also no solution.
Does somebody know what I can do to fix the hum?
Thanks!