Congratulations @Gabe634 : your work takes a nice start !
It's not easy to assemble all those slanted joints...
A friend of mine, who worked extensively from scratch on the subject of a Wide-Band speaker coupled to a horn, told me that what took him the most of time in work and tests was the setting of the compression chamber : driver, volume, damping, coupling to the throat of the horn.
According to him, these parameters -
and notably damping
- first determine strongly the voicing / tone of the mid and mid-bass range of the system driver + horn, while the bass extension is mainly set by the size of the mouth.
He also told me that the FOSTEX speakers tend to have some kind of "nasal" tone on the voices, that must be corrected in a way or another. That's what he found - among other - on tests with a 7" FE166S project (below, at right), and finally preferred to have a 8" custom designed driver for another project (below, at left) :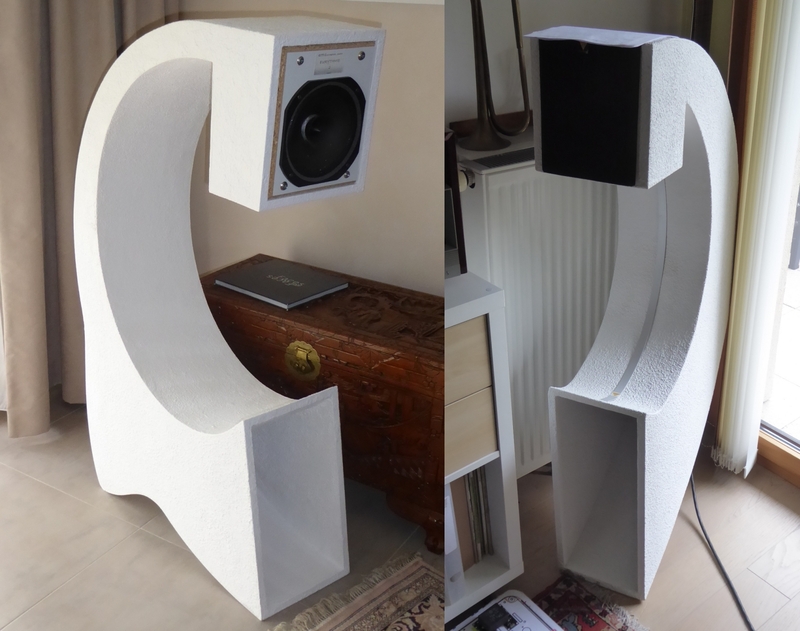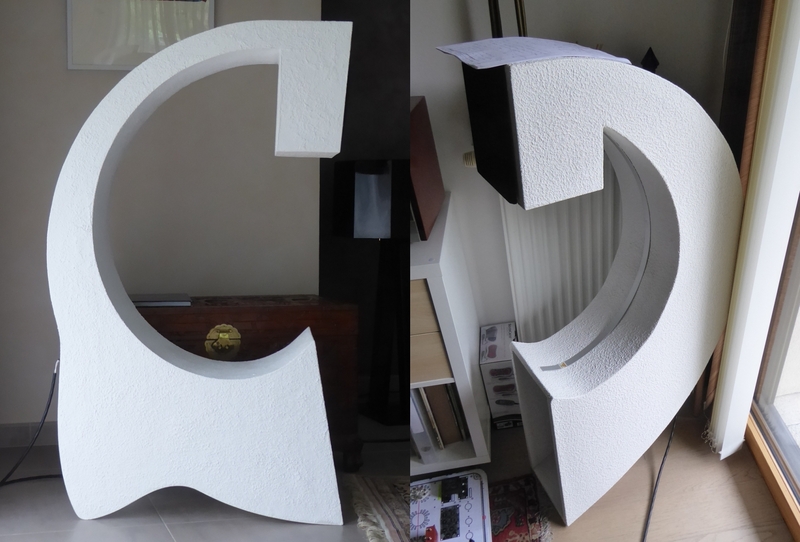 I never ventured seriously in the horn territory, staying in the Bass-Reflex system with my 7" TRIANGLE T17FL2 (made in France, long discontinued now) :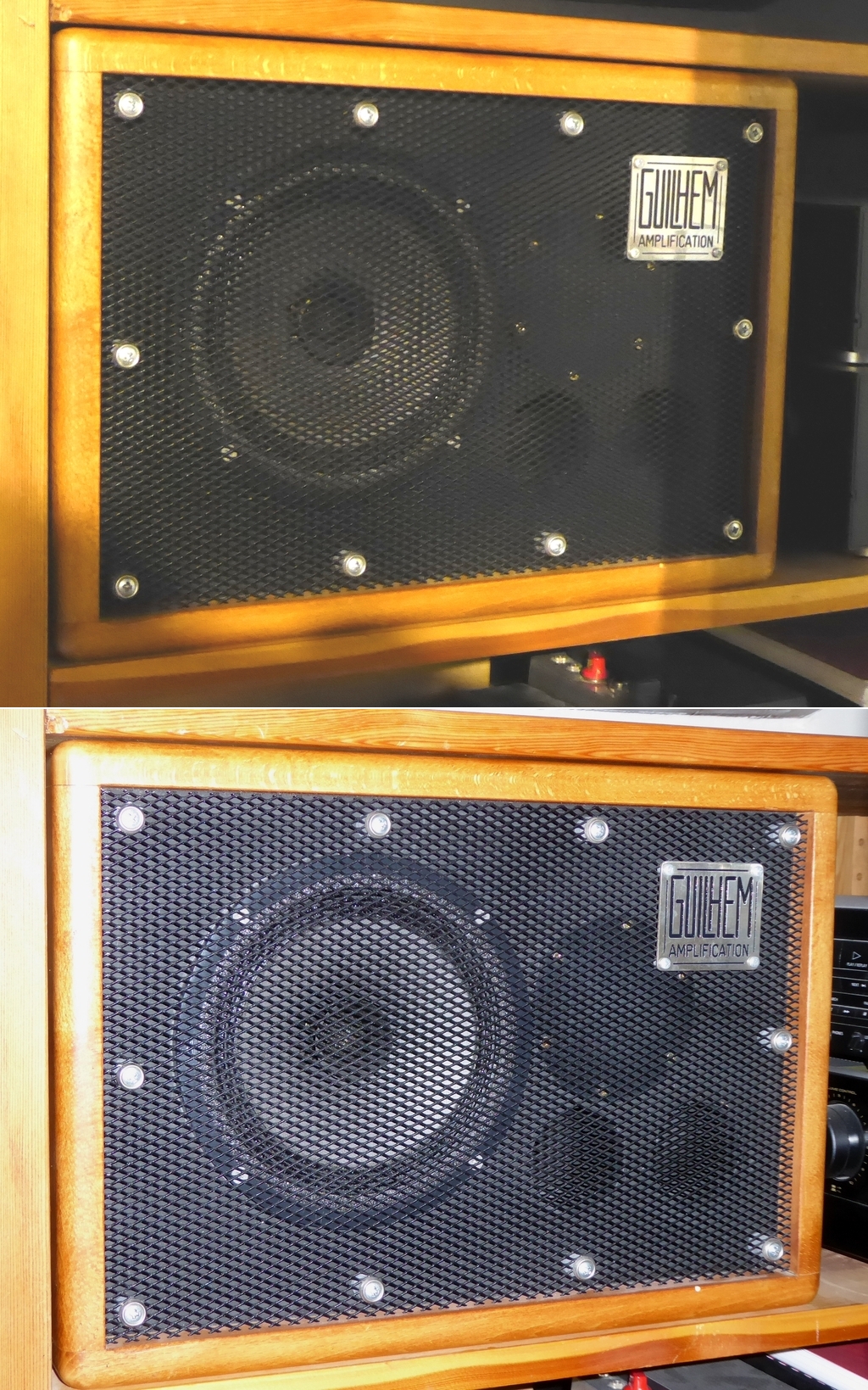 That said, I had to work quite carefully the internal damping :

And also had to correct a +4/+5dB step in the loudspeaker response, starting at 1KHz and ending at 10KHz, which gave a very dynamical tone at the first glance, but tiring in the long run and finally somewhat artificial sounding. I used a simple Baffle Step Correction filter as a basis, and fine-tuned it by ear :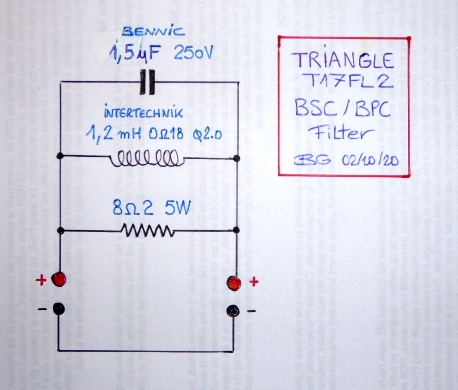 The 1.2mH coil determines the cut-off frequency, the 8R2 resistor fixes the level, the 1.5µF allows to compensate the highs drop that often occurs on Wide-Band speakers, avoiding the use of a super-tweeter (which I have found to destroy all the interest of a WB speaker).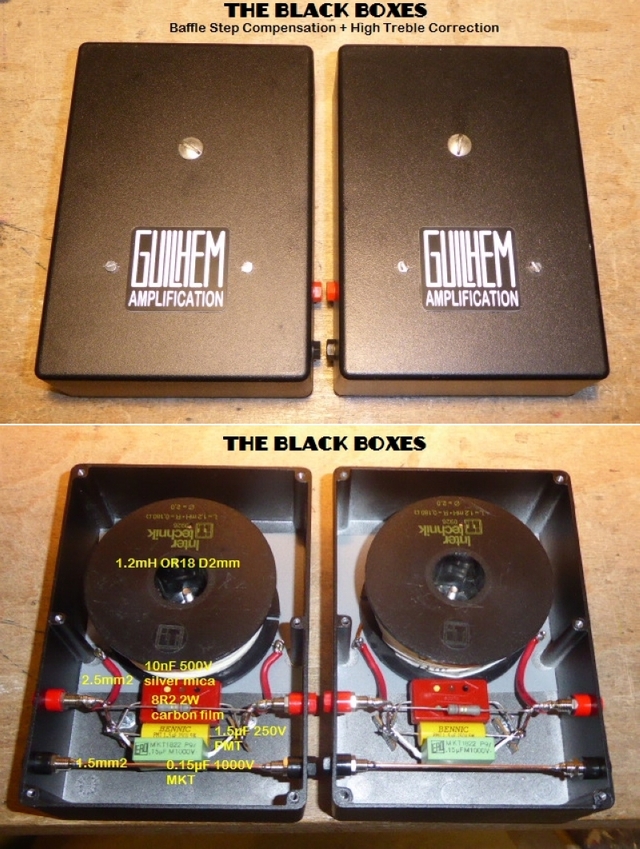 Beside the careful damping work and tests that your compression chamber might require, maybe that kind of filter would also help ?.
-tbln.