You guys are just TOO creative !
here's a much more basic pair i made about twelve years ago, left it at work where the guys still use it.
it was ~ten dollar 6" woofer in 8" pipe tee that was almost right diamter.and red rubber gasket made perfect fit. We measured compliance of speaker and added 7" to top to increase enclosure volume for better match..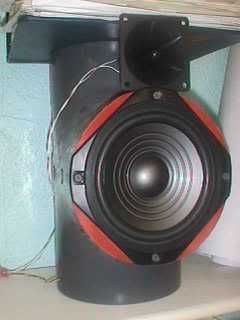 This TDA2009 10W/channel amp made a fine office system for streaming audio.
It was the KitsR'Us KT88.
People came from all over the plant to marvel at such sound from an amp in a sardine can..
I listened to opera, the night shift preferred internet reggae stations.
old jim