Hi all,
I mentioned in another thread a small headphone amp that fits in a candy tin. I am posting info here in case anyone wants to build one.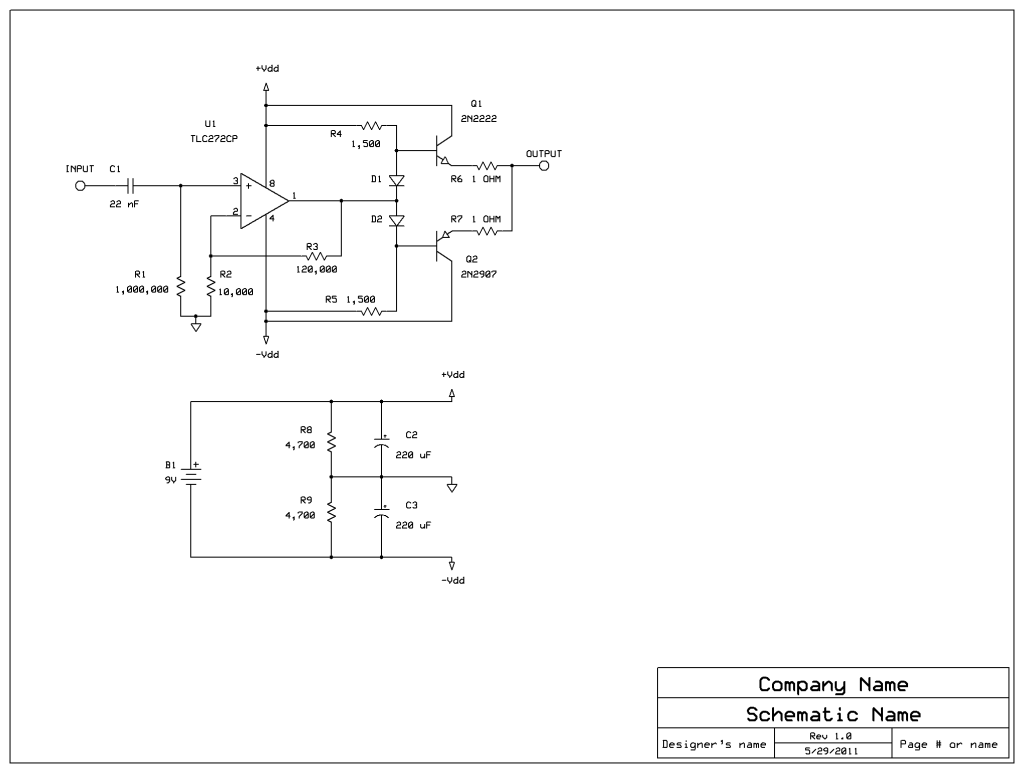 It uses a 9v battery in a split configuration. The capacitor value was chosen by their size, nothing magical about 220 microfarads. There is a bit of hiss in the output that is only noticeable when there is no signal in. I'd like to remove this but I don't think it has to do with the power supply. The 4700 ohm resistors aren't critical either, but they don't need to be too low or too high.
The TLC272 chip is the only IC I have that will work. I tried TL072 and TL082 (according to TI's website, the TL072 is the same as the 82 but with lower noise characteristic) but each breaks up much sooner than the 272. It's a CMOS dual op amp that can source/sink up to 30 mA and I think that's why it's most capable of driving the output transistors. I haven't tried any other op amp types, mainly because I am not willing to drop $15 on one DIP-8.
The transistors are biased by the two diodes at about 10 mA. This value isn't critical but the transistors aren't supposed to be hot (either one). The diodes aren't critical, but better performance would be achieved by comparing the diode forward drop to the base-emitter forward drop of their corresponding transistors. The transistors themselves would benefit from matching, but at very least need to be complimentary types. Suggested types are 2222/2907, 3904/3906, and 4401/4403.
I didn't use metal film resistors and that may be contributing to the fuzz noise. Here is a list of improvements I could make, but most will not fit in a small Altoid's tin. The amp, as built, works pretty well. The resistors are all carbon-film, the caps are electrolytic and green mylar, and the IC socket is one of those solder-tail sockets. You can find better sockets out there although they aren't as cheap.
-Extra battery filtering/isolation or a DC jack. External DC would increase the power but defeat the purpose of portability that this scheme offers.
-Make the output stage a darlington pair stage by adding another NPN and PNP transistor. This will probably allow the use of lower-output chips such as TL072 and TL082.
-Add a volume control on the front end. There is not enough room in the can as-is but a larger enclosure would accommodate.
-Use metal-film resistors for lower internal noise.
-Replace each 220uF power cap with three 100uF caps in parallel. This will lower capacitor ESR and perhaps increase bass response.
-Expensive audiophile caps (or not)
If there are any suggestions, comments, angry rants, etc, I would like to hear them.
Ed