KrammeAcoustics wrote:
About the hum, did you connect the wallwart directly as power supply ? common problem could be, not enough filtering.
I'm not so much worried about power supply hum yet as much as getting anything to work. The PS i made has a 12VA 12vac Hammond transformer, followed by 2 1000uF caps and an lm7812 and another 220uF cap, and of course bypass caps.
robot797 wrote:
does the tube glow or get hot
if not that is the problem
When power is applied they glow bright for a second or two then fade away. I haven't let it on long enough to see if they start glowing again. When i was building the PS i accidentally made a half wave bridge (talk about making mistakes
) so i may have killed the heaters with that :S
I have 2 more ecc82s but i'm kind of worried about putting them in an potentially killing them too.
roggom wrote:
If you have a chance, upload some pics of your build (top and bottom). This way we can see if there are any mis-wires)

Also, one thing to remember is the tube pins are read from the bottom.
Ugh, i remember when building a preamp i had to deal with the backwards (at least for me) pinouts. I had to redo the whole thing.
I made extra sure i used the right pinout this time.
Here are some pics, though its a fairly messy PtoP job, even by my standards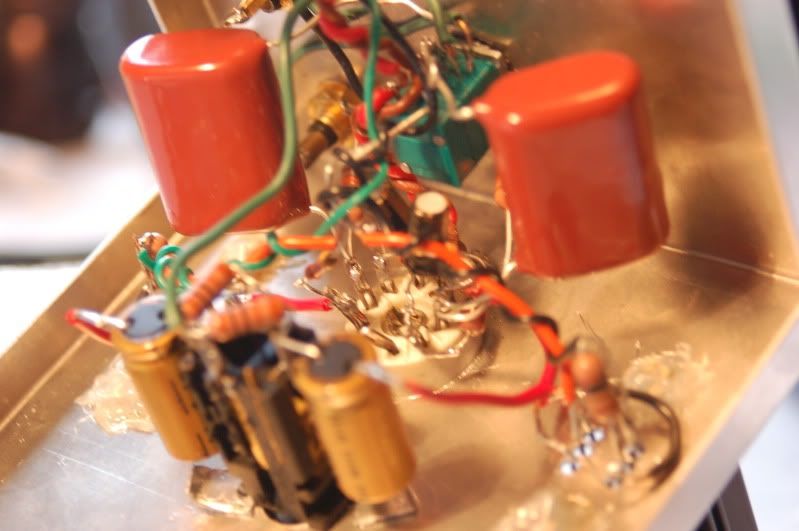 I'm using the switch on the Alps pot to control the B+ to give the heaters a moment to heat up, so it adds another layer of messiness i'm afraid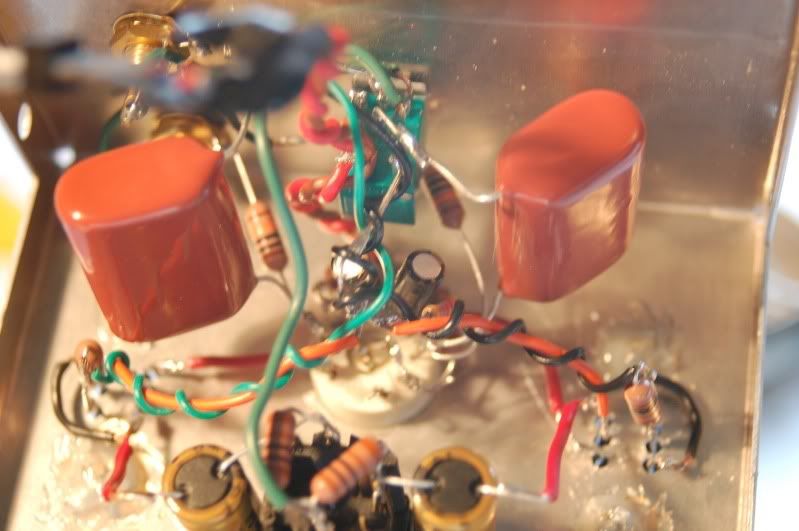 The PS and enclosure came out very nicely though